Red Dirt Rendebrew – Saturday night Featuring Too Slim & the Taildraggers, Judson Cole Band, Robert Cline Jr., El Wencho, Insufficient Funds Band
July 14, 2018
1PM - 11PM
---
About Red Dirt Rendebrew – Saturday night Featuring Too Slim & the Taildraggers, Judson Cole Band, Robert Cline Jr., El Wencho, Insufficient Funds Band
It's the 1st Annual "Red Dirt Rendebrew" at Lewis & Clark Brewing Company.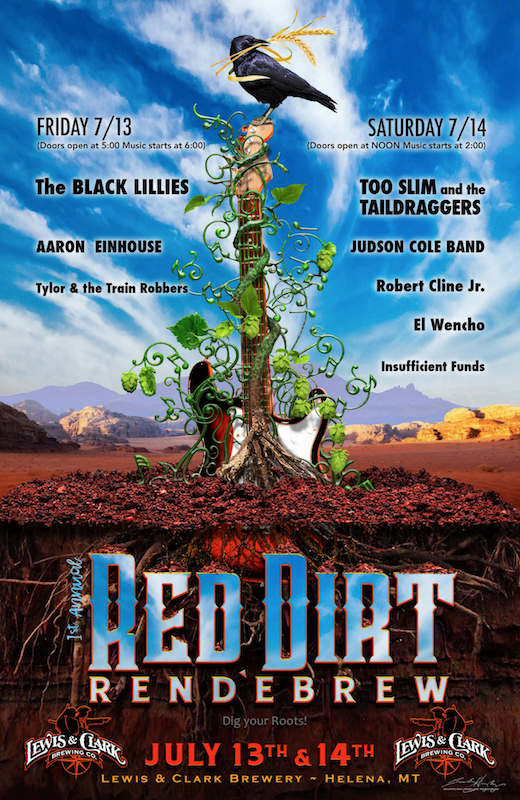 We'll be outside on the Rail Road Patio Stage, in the shade!
Saturday the music starts 1:30 with local country favorites Insufficient Funds Band, next up is our good friends John & Josh from El Wencho, then fresh off his European tour it's Texas native Robert Cline Jr., next up from San Angelo, TX it's the Judson Cole Band, then our headliner for Saturday is Too Slim and the Taildraggers.
Too Slim & the Taildraggers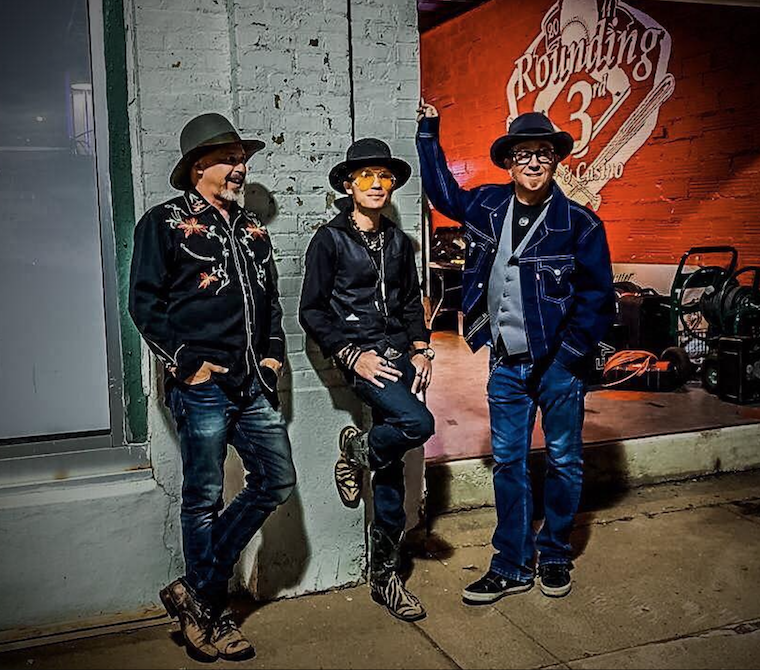 Tim Langford has that rare ability to make believable every note he sings and plays, along with the veracity of each tale, tall or otherwise. Now a resident of Nashville, he is currently being honored along with six other artists in the Country Music Hall of Fame and in a prominent exhibit at the airport. His exposure in "Opryland" can only further the cause of spreading his musical "gospel" to a wider audience. Dave Rubin, KBA recipient in Journalism
Judson Cole Band
BACK IN EARLY 2012, THE JUDSON COLE BAND WAS JUST GETTING STARTED IN THEIR HOMETOWN OF SAN ANGELO, TX. WITH THE HELP OF THEIR DEBUT ALBUM, "EASTERN SKIES" AND THEIR 3 SINGLES, "CALL ME BACK HOME", "TIME TO RUN", AND "GOODBYE DALLAS", THE BAND CONTINUES TO TOUR ACROSS TEXAS AND THE SOUTHERN U.S., SPREADING THEIR MUSIC TO THEIR FANS. THE BAND CONSISTS OF JUDSON COLE, BOBBY SCHUYLER, RYLEE RAMOS, and SEATH SMITH. THEIR SOUND IS AS DIVERSE AS THEIR BACKGROUNDS AND IS HELD TOGETHER BY A COMMON THREAD OF FRIENDSHIP, SOUL, AND A LOVE FOR MUSIC.
Robert Cline jr.
Robert Cline Jr. began his music career as a collaboration with members of The Subdudes, both in the studio and on stage.  John Magnie, produced Cline's debut album "All The Right Reasons," which was released in March 2012. Cline recalls, "John and Steve Amedee really took me under theirwing and have been an amazing source of support and inspiration".  Cline has performed solo and as a band with musicians such as:  Buzz Cason, John Magnie, Lisa Morales, Shelley King, Mike Blakely, Walt Wilkins, Susan Gibson, Dustin Welch, Michael O'Connor, The 3 Twins, The Drive-By Truckers and many more.
Robert's debut album
in 2013, All the Right Reasons is varied in its sound, ranging from Texas bar house country rock to bare-bones acoustic ballads.  Robert's ability to go from catchy toe-tapping tunes to soulful and sentimental numbers lends a sense of spontaneity to the record.
Cline has recently relocated to the Shoals where he wrote and recorded his second album, American Mojo, at The NuttHouse Recording Studio in Sheffield, AL.
El Wencho
For most people, the image of an "acoustic duo" conjures images of two soft spoken musicians singing folk songs around a campfire.  This is not the case with El Wencho. Two original members of The Clintons, John & Josh joke that, "We're half the band, twice the party." The guys have played over 1,500 shows together at this point in their career, and are no strangers to throwing a rocking party.  Their show is a hotdish or "badasserole" of musical genres and style…..
Insufficient Funds
Formed in the Winter of 2010, founding members, Matt Winters and Al Forgey set out to play the songs and recreate the sounds that were tied to their childhood memories. The result: Country and Southern Rock standards made famous by artists like Jason Aldean, Luke Bryan, ZZ Top, Steve Miller Band, The Kentucky Headhunters, Stevie Ray Vaughn, Brooks and Dunn, Randy Houser, Merle Haggard, Lynyrd Skynyrd, Steve Earle and Blake Shelton, just to name a few. Over the past several years, they have evolved into a group that plays what the crowd wants-without straying from their roots. With the unique Country guitar sounds from lead guitarist Matt Winters, the Classic Rock influenced Bass rhythms of Blake Mendenhall, to the distinctive Country driven vocals of Lead Singer and Drummer Al Forgey, Insufficient Funds Band appeals to many audiences. They have played shows that have taken them all over the Northwestern U.S.. Some of their accolades include opening for Nationally-known acts like the Certified Triple Platinum Country supergroup Lonestar, Smith Music Group Recording Artist Bart Crow Band, Torrez Music Group's Shotgun Rider, NBC's The Voice Runner-Up Meghan Lindsey and North Dakota Natives, 32 Below. They have also headlined the Jack Daniels & XL Country 100.7 Country Showdown in Bozeman, Montana. With 80+ dates booked every year, they have become a sought after staple to many Montana Country music audiences.
Ticket Prices
1 day pass – advance $ 19.00
2 day pass – advance $ 29.00
1 day pass at the Gate $ 25.00
2 day pass at the Gate $ 40.00
Visit Red Dirt Rendebrew – Saturday night Featuring Too Slim & the Taildraggers, Judson Cole Band, Robert Cline Jr., El Wencho, Insufficient Funds Band's Website
Find Red Dirt Rendebrew – Saturday night Featuring Too Slim & the Taildraggers, Judson Cole Band, Robert Cline Jr., El Wencho, Insufficient Funds Band on Facebook
Ticket Prices 1 day pass - advance $ 19.00, 2 day pass - advance $ 29.00, 1 day pass at the Gate $ 25.00, 2 day pass at the Gate $ 40.00